Ultimátní přehled všech turnajů na WSOP 2015 (včetně vedlejších turnajů)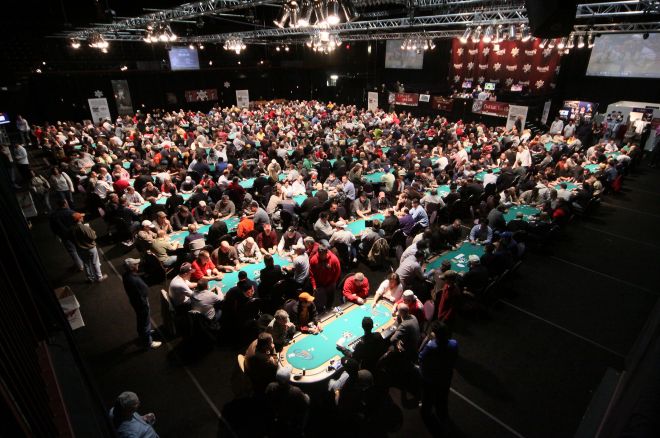 Letošní World Series of Poker 2015 bylo oficiálně zahájeno a jako vždy nechybí tým Pokernews se svými každodenními reportážemi přímo z místa.
Letošní rozpis doznal několika menších změn - hned při prvním pohledu na rozpis zaujme turnaj s názvem Colossus, ve kterém za pouhých $565 můžete hrát o garantovaných $5.000.000. Při vzpomínce na loňský Millionaire, kdy se musel přidat dokonce další startovní flight, můžeme očekávat, že bude opět obrovský zájem.
Nejzajímavějším turnajem World Series of Poker bude ovšem jako vždy Main Event s tradičním buy-inem $10.000, který vypukne 5. července a který letos nemá garanci pro vítěze, ale plošného payoutu - ITM bude minimálně 1.000 hráčů.
Zbytek už je stejný, jako loni - 30.000 v žetonech, dvouhodinové blindy a 7 dní akce.
Kompletní rozpis WSOP 2015
| Čas | Číslo turnaje | Název | Buy-in |
| --- | --- | --- | --- |
| Středa, 27. května | | | |
| 8:00 AM | | – Registration Opens. Live Action & Satellites Begin – | |
| 8:00 AM | 69 | Turbo Mega Satellite – No-Limit Hold'em | $75 |
| 10:00 AM | 70 | Turbo Mega Satellite – No-Limit Hold'em | $185 |
| 11:00 AM | 71 | Mega Satellite – $5K No-Limit Hold'em | $550 |
| 12:00 PM | 1 | Casino Employees No-Limit Hold'em (2 day event) | $565 |
| 3:00 PM | 72 | Deep Stack No-Limit Hold'em Tournament | $235 |
| 4:00 PM | 2 | No-Limit Hold'em (4 day event) | $5.000 |
| 6:00 PM | 73 | Deep Stack No-Limit Hold'em Tournament | $185 |
| 10:00 PM | 74 | Deep Stack No-Limit Hold'em Tournament | $135 |
| Čtvrtek, 28. května | | | |
| 8:00 AM | 75 | Turbo Mega Satellite – No-Limit Hold'em | $75 |
| 10:00 AM | 76 | Turbo Mega Satellite – No-Limit Hold'em | $185 |
| 12:00 PM | 3 | Omaha Hi-Low Split-8 or Better (3 day event) | $1.500 |
| 1:00 PM | 1FT | Casino Employees No-Limit Hold'em (Restart) | Final Table |
| 2:00 PM | 2R | No-Limit Hold'em (Restart) Day 2 | |
| 3:00 PM | 77 | Deep Stack No-Limit Hold'em Tournament | $235 |
| 4:00 PM | 4 | Shootout No-Limit Hold'em (2.000 player max) (3 day event) | $3.000 |
| 5:00 PM | 78 | Mega Satellite – No-Limit Hold'em | $330 |
| 6:00 PM | 79 | Deep Stack No-Limit Hold'em Tournament | $185 |
| 8:00 PM | 80 | Mega Satellite – No-Limit Hold'em | $550 |
| 10:00 PM | 81 | Deep Stack No-Limit Hold'em Tournament | $135 |
| Pátek, 29. května | | | |
| 10:00 AM | 5A | The Colossus No-Limit Hold'em 5A (5 day event) | $565 |
| | | $5.000.000 Guaranteed Prize Pool | |
| 1:00 PM | 3R | Omaha Hi-Low Split-8 or Better (Restart) Day 2 | |
| 2:00 PM | 2R | No-Limit Hold'em (Restart) Day 3 | |
| 2:00 PM | 4R | Shootout No-Limit Hold'em (Restart) Day 2 | |
| 6:00 PM | 5B | The Colossus No-Limit Hold'em 5B | $565 |
| Sobota, 30. května | | | |
| 10:00 AM | 5C | The Colossus No-Limit Hold'em 5C | $565 |
| 1:00 PM | 3FT | Omaha Hi-Low Split-8 or Better (Restart) | Final Table |
| 2:00 PM | 2FT | No-Limit Hold'em (Restart) | Final Table |
| 2:00 PM | 4FT | Shootout No-Limit Hold'em (Restart) | Final Table |
| 6:00 PM | 5D | The Colossus No-Limit Hold'em 5D | $565 |
| Neděle, 31. května | | | |
| 8:00 AM | 82 | Turbo Mega Satellite – No-Limit Hold'em | $75 |
| 10:00 AM | 83 | Turbo Mega Satellite – No-Limit Hold'em | $185 |
| 11:00 AM | 6 | Hyper Hold'em (No-Limit) (2 day event) | $1.000 |
| 12:00 PM | 84 | Turbo Mega Satellite – $10K 2-7 Triple Draw Lowball (Limit) | $1.060 |
| 2:00 PM | 5R | The Colossus No-Limit Hold'em (Restart) Day 2 | |
| 4:00 PM | 7 | 2 – 7 Triple Draw Lowball (Limit) Championship (3 day event) | $10.000 |
| 5:00 PM | 85 | Mega Satellite – No-Limit Hold'em | $330 |
| 6:00 PM | 86 | Deep Stack No-Limit Hold'em Tournament | $185 |
| 8:00 PM | 87 | Mega Satellite – No-Limit Hold'em | $550 |
| 10:00 PM | 88 | Deep Stack No-Limit Hold'em Tournament | $135 |
| Pondělí, 01. června | | | |
| 8:00 AM | 89 | Turbo Mega Satellite – No-Limit Hold'em | $75 |
| 10:00 AM | 90 | Turbo Mega Satellite – No-Limit Hold'em | $185 |
| 12:00 PM | 8 | Pot-Limit Hold'em (3 day event) | $1.500 |
| 1:00 PM | 5R | The Colossus No-Limit Hold'em (Restart) Day 3 | |
| 1:00 PM | 6FT | Hyper Hold'em (No-Limit) (Restart) | Final Table |
| 2:00 PM | 7R | 2 – 7 Triple Draw Lowball (Limit) Championship (Restart) Day 2 | |
| 3:00 PM | 91 | Deep Stack No-Limit Hold'em Tournament | $235 |
| 4:00 PM | 9 | Seven Card Razz (3 day event) | $1.500 |
| 5:00 PM | 92 | Mega Satellite – No-Limit Hold'em | $330 |
| 6:00 PM | 93 | Deep Stack No-Limit Hold'em Tournament | $185 |
| 8:00 PM | 94 | Mega Satellite – $10K Heads-Up No-Limit Hold'em | $1.060 |
| 10:00 PM | 95 | Deep Stack No-Limit Hold'em Tournament | $135 |
| Úterý, 02. června | | | |
| 8:00 AM | 96 | Turbo Mega Satellite – No-Limit Hold'em | $75 |
| 10:00 AM | 97 | Turbo Mega Satellite – No-Limit Hold'em | $185 |
| 12:00 PM | 10 | Heads Up No-Limit Hold'em Championship | $10.000 |
| | | (512 player max) (3 day event) | |
| 1:00 PM | 10 | Heads Up No-Limit Hold'em Championship Round 1 | |
| 1:00 PM | 5FT | The Colossus No-Limit Hold'em (Restart) | Final Table |
| 1:00 PM | 8R | Pot-Limit Hold'em (Restart) Day 2 | |
| 2:00 PM | 7FT | 2 – 7 Triple Draw Lowball (Limit) Championship (Restart) | Final Table |
| 2:00 PM | 9R | Seven Card Razz (Restart) Day 2 | |
| 3:00 PM | 98 | Deep Stack No-Limit Hold'em Tournament | $235 |
| 4:00 PM | 10 | Heads Up No-Limit Hold'em Championship Round 2 | |
| 4:00 PM | 11 | Limit Hold'em (3 day event) | $1.500 |
| 5:00 PM | 99 | Mega Satellite – No-Limit Hold'em | $330 |
| 6:00 PM | 100 | Deep Stack No-Limit Hold'em Tournament | $185 |
| 7:00 PM | 10 | Heads Up No-Limit Hold'em Championship Round 3 | |
| 8:00 PM | 101 | Mega Satellite – No-Limit Hold'em | $550 |
| 10:00 PM | 102 | Deep Stack No-Limit Hold'em Tournament | $135 |
| Středa, 03. června | | | |
| 8:00 AM | 103 | Turbo Mega Satellite – No-Limit Hold'em | $75 |
| 10:00 AM | 104 | Turbo Mega Satellite – No-Limit Hold'em | $185 |
| 12:00 PM | 12 | Six-Handed No-Limit Hold'em (3 day event) | $1.500 |
| 1:00 PM | 8FT | Pot-Limit Hold'em (Restart) | Final Table |
| 1:00 PM | 10R | Heads Up No-Limit Hold'em Championship (Restart) Round 4 | |
| 2:00 PM | 9FT | Seven Card Razz (Restart) | Final Table |
| 2:00 PM | 11R | Limit Hold'em (Restart) Day 2 | |
| 3:00 PM | 105 | Deep Stack No-Limit Hold'em Tournament | $235 |
| 4:00 PM | 10R | Heads Up No-Limit Hold'em Championship (Restart) Round 5 | |
| 4:00 PM | 13 | Omaha/Seven Card Stud Hi-Low 8-or Better (3 day event) | $2.500 |
| 5:00 PM | 106 | Mega Satellite – No-Limit Hold'em | $330 |
| 6:00 PM | 107 | Deep Stack No-Limit Hold'em Tournament | $185 |
| 7:00 PM | 10R | Heads Up No-Limit Hold'em Championship (Restart) Round 6 | |
| 8:00 PM | 108 | Mega Satellite – $10K Pot-Limit Hold'em | $1.060 |
| 10:00 PM | 109 | Deep Stack No-Limit Hold'em Tournament | $135 |
| Čtvrtek, 04. června | | | |
| 8:00 AM | 110 | Turbo Mega Satellite – No-Limit Hold'em | $75 |
| 10:00 AM | 111 | Turbo Mega Satellite – No-Limit Hold'em | $185 |
| 12:00 PM | 14 | Shootout No-Limit Hold'em (2.000 player max) (3 day event) | $1.500 |
| 1:00 PM | 10FT | Heads Up No-Limit Hold'em Championship (Restart) Round 7 | |
| 1:00 PM | 12R | Six-Handed No-Limit Hold'em (Restart) Day 2 | |
| 2:00 PM | 11FT | Limit Hold'em (Restart) | Final Table |
| 2:00 PM | 13R | Omaha/Seven Card Stud Hi-Low 8-or Better (Restart) Day 2 | |
| 3:00 PM | 112 | Deep Stack No-Limit Hold'em Tournament | $235 |
| 4:00 PM | 10FT | Heads Up No-Limit Hold'em Championship (Restart) Round 8 | |
| 4:00 PM | 15 | Pot-Limit Hold'em Championship (3 day event) | $10.000 |
| 5:00 PM | 113 | Mega Satellite – No-Limit Hold'em | $330 |
| 6:00 PM | 114 | Deep Stack No-Limit Hold'em Tournament | $185 |
| 7:00 PM | 10FT | Heads Up No-Limit Hold'em Championship (Restart) Round 9 | |
| 8:00 PM | 115 | Mega Satellite – No-Limit Hold'em | $550 |
| 10:00 PM | 116 | Deep Stack No-Limit Hold'em Tournament | $135 |
| Pátek, 05. června | | | |
| 8:00 AM | 117 | Turbo Mega Satellite – No-Limit Hold'em | $185 |
| 10:00 AM | 16A | Millionaire Maker No-Limit Hold'em (5 day event) | $1.500 |
| | | $1.000.000 Guaranteed 1st Place | |
| 1:00 PM | 12FT | Six-Handed No-Limit Hold'em (Restart) | Final Table |
| 1:00 PM | 14R | Shootout No-Limit Hold'em (Restart) Day 2 | |
| 2:00 PM | 13FT | Omaha/Seven Card Stud Hi-Low 8-or Better (Restart) | Final Table |
| 2:00 PM | 15R | Pot-Limit Hold'em Championship (Restart) Day 2 | |
| 3:00 PM | 118 | Deep Stack No-Limit Hold'em Tournament | $235 |
| 5:00 PM | 119 | Mega Satellite – No-Limit Hold'em | $330 |
| 6:00 PM | 120 | Deep Stack No-Limit Hold'em Tournament | $185 |
| 8:00 PM | 121 | Mega Satellite – $10K Seven Card Razz | $1.060 |
| 10:00 PM | 122 | Deep Stack No-Limit Hold'em Tournament | $135 |
| Sobota, 06. června | | | |
| 8:00 AM | 123 | Turbo Mega Satellite – No-Limit Hold'em | $185 |
| 10:00 AM | 16B | Millionaire Maker No-Limit Hold'em Flight B | $1.500 |
| 1:00 PM | 14FT | Shootout No-Limit Hold'em (Restart) | Final Table |
| 2:00 PM | 15FT | Pot-Limit Hold'em Championship (Restart) | Final Table |
| 3:00 PM | 124 | Deep Stack No-Limit Hold'em Tournament | $235 |
| 4:00 PM | 17 | Seven Card Razz Championship (3 day event) | $10.000 |
| 5:00 PM | 125 | Mega Satellite – No-Limit Hold'em | $330 |
| 6:00 PM | 126 | Deep Stack No-Limit Hold'em Tournament | $185 |
| 8:00 PM | 127 | Mega Satellite – No-Limit Hold'em | $550 |
| 10:00 PM | 128 | Deep Stack No-Limit Hold'em Tournament | $135 |
| Neděle, 07. června | | | |
| 8:00 AM | 129 | Turbo Mega Satellite – No-Limit Hold'em | $75 |
| 10:00 AM | 130 | Turbo Mega Satellite – No-Limit Hold'em | $185 |
| 11:00 AM | 16R | Millionaire Maker No-Limit Hold'em (Restart) Day 2 | |
| 12:00 PM | 18 | Turbo No-Limit Hold'em (2 day event) | $1.000 |
| 2:00 PM | 17R | Seven Card Razz Championship (Restart) Day 2 | |
| 3:00 PM | 131 | Deep Stack No-Limit Hold'em Tournament | $235 |
| 4:00 PM | 19 | Six-Handed Limit Hold'em (3 day event) | $3.000 |
| 5:00 PM | 132 | Mega Satellite – No-Limit Hold'em | $330 |
| 6:00 PM | 133 | Deep Stack No-Limit Hold'em Tournament | $185 |
| 8:00 PM | 134 | Mega Satellite – $10K Omaha Hi-Low Split-8 or Better | $1.060 |
| 10:00 PM | 135 | Deep Stack No-Limit Hold'em Tournament | $135 |
| Pondělí, 08. června | | | |
| 8:00 AM | 136 | Turbo Mega Satellite – No-Limit Hold'em | $75 |
| 10:00 AM | 137 | Turbo Mega Satellite – No-Limit Hold'em | $185 |
| 11:00 AM | 16R | Millionaire Maker No-Limit Hold'em (Restart) Day 3 | |
| 12:00 PM | 20 | No-Limit Hold'em (3 day event) | $1.500 |
| 1:00 PM | 18FT | Turbo No-Limit Hold'em (Restart) | Final Table |
| 2:00 PM | 17FT | Seven Card Razz Championship (Restart) | Final Table |
| 2:00 PM | 19R | Six-Handed Limit Hold'em (Restart) Day 2 | |
| 3:00 PM | 138 | Deep Stack No-Limit Hold'em Tournament | $235 |
| 4:00 PM | 21 | Omaha Hi-Low Split-8 or Better Championship (3 day event) | $10.000 |
| 5:00 PM | 139 | Mega Satellite – No-Limit Hold'em | $330 |
| 6:00 PM | 140 | Deep Stack No-Limit Hold'em Tournament | $185 |
| 8:00 PM | 141 | Mega Satellite – No-Limit Hold'em | $550 |
| 10:00 PM | 142 | Deep Stack No-Limit Hold'em Tournament | $135 |
| Úterý, 09. června | | | |
| 8:00 AM | 143 | Turbo Mega Satellite – No-Limit Hold'em | $75 |
| 10:00 AM | 144 | Turbo Mega Satellite – No-Limit Hold'em | $185 |
| 11:00 AM | 16FT | Millionaire Maker No-Limit Hold'em (Restart) | Final Table |
| 12:00 PM | 22 | No-Limit Hold'em (3 day event) | $1.000 |
| 1:00 PM | 20R | No-Limit Hold'em (Restart) Day 2 | |
| 2:00 PM | 19FT | Six-Handed Limit Hold'em (Restart) | Final Table |
| 2:00 PM | 21R | Omaha Hi-Low Split-8 or Better Championship (Restart) Day 2 | |
| 3:00 PM | 145 | Deep Stack No-Limit Hold'em Tournament | $235 |
| 4:00 PM | 23 | 2 – 7 Draw Lowball (No-Limit) (3 day event) | $1.500 |
| 5:00 PM | 146 | Mega Satellite – No-Limit Hold'em | $330 |
| 6:00 PM | 147 | Deep Stack No-Limit Hold'em Tournament | $185 |
| 8:00 PM | 148 | Mega Satellite – $5K Eight-Handed No-Limit Hold'em | $550 |
| 10:00 PM | 149 | Deep Stack No-Limit Hold'em Tournament | $135 |
| Středa, 10. června | | | |
| 8:00 AM | 150 | Turbo Mega Satellite – No-Limit Hold'em | $75 |
| 10:00 AM | 151 | Turbo Mega Satellite – No-Limit Hold'em | $185 |
| 12:00 PM | 24 | H.O.R.S.E. (3 day event)(Limit Hold'em. Omaha Hi-Lo Split-8. Seven Card Razz. Seven CardStud. Seven Card Hi-Lo Split-8) | $1.500 |
| | | | |
| | | | |
| 1:00 PM | 20FT | No-Limit Hold'em (Restart) | Final Table |
| 1:00 PM | 22R | No-Limit Hold'em (Restart) Day 2 | |
| 2:00 PM | 21FT | Omaha Hi-Low Split-8 or Better Championship (Restart) | Final Table |
| 2:00 PM | 23R | 2 – 7 Draw Lowball (No-Limit) (Restart) Day 2 | |
| 3:00 PM | 152 | Deep Stack No-Limit Hold'em Tournament | $235 |
| 4:00 PM | 25 | Eight-Handed No-Limit Hold'em (4 day event) | $5.000 |
| 5:00 PM | 153 | Mega Satellite – No-Limit Hold'em | $330 |
| 6:00 PM | 154 | Deep Stack No-Limit Hold'em Tournament | $185 |
| 8:00 PM | 155 | Mega Satellite – $10K Seven Card Stud | $1.060 |
| 10:00 PM | 156 | Deep Stack No-Limit Hold'em Tournament | $135 |
| Čtvrtek, 11. června | | | |
| 8:00 AM | 157 | Turbo Mega Satellite – No-Limit Hold'em | $75 |
| 10:00 AM | 158 | Turbo Mega Satellite – No-Limit Hold'em | $185 |
| 12:00 PM | 26 | Pot-Limit Omaha (3 day event) | $1.000 |
| 1:00 PM | 22FT | No-Limit Hold'em (Restart) | Final Table |
| 1:00 PM | 24R | H.O.R.S.E (Restart) Day 2 | |
| 2:00 PM | 23FT | 2 – 7 Draw Lowball (No-Limit) (Restart) | Final Table |
| 2:00 PM | 25R | Eight-Handed No-Limit Hold'em (Restart) Day 2 | |
| 3:00 PM | 159 | Deep Stack No-Limit Hold'em Tournament | $235 |
| 4:00 PM | 27 | Seven Card Stud Championship (3 day event) | $10.000 |
| 5:00 PM | 160 | Mega Satellite – No-Limit Hold'em | $330 |
| 6:00 PM | 161 | Deep Stack No-Limit Hold'em Tournament | $185 |
| 8:00 PM | 162 | Mega Satellite – No-Limit Hold'em | $550 |
| 10:00 PM | 163 | Deep Stack No-Limit Hold'em Tournament | $135 |
| Pátek, 12. června | | | |
| 8:00 AM | 164 | Turbo Mega Satellite – No-Limit Hold'em | $185 |
| 10:00 AM | 28A | Monster Stack No-Limit Hold'em 28A (5 day event) | $1.500 |
| 1:00 PM | 24FT | H.O.R.S.E (Restart) | Final Table |
| 1:00 PM | 26R | Pot-Limit Omaha (Restart) Day 2 | |
| 2:00 PM | 25R | Eight-Handed No-Limit Hold'em (Restart) Day 3 | |
| 2:00 PM | 27R | Seven Card Stud Championship (Restart) Day 2 | |
| 5:00 PM | 165 | Mega Satellite – No-Limit Hold'em | $330 |
| 6:00 PM | 166 | Deep Stack No-Limit Hold'em Tournament | $185 |
| 8:00 PM | 167 | Mega Satellite – $10K 2-7 Draw Lowball (No-Limit) | $1.060 |
| 10:00 PM | 168 | Deep Stack No-Limit Hold'em Tournament | $135 |
| Sobota, 13. června | | | |
| 8:00 AM | 169 | Turbo Mega Satellite – No-Limit Hold'em | $185 |
| 10:00 AM | 28B | Monster Stack No-Limit Hold'em 28B | $1.500 |
| 1:00 PM | 26FT | Pot-Limit Omaha (Restart) | Final Table |
| 2:00 PM | 27FT | Seven Card Stud Championship (Restart) | Final Table |
| 2:00 PM | 25FT | Eight-Handed No-Limit Hold'em (Restart) | Final Table |
| 4:00 PM | 29 | 2 – 7 Draw Lowball Championship (No-Limit) (3 day event) | $10.000 |
| 5:00 PM | 170 | Mega Satellite – No-Limit Hold'em | $330 |
| 6:00 PM | 171 | Deep Stack No-Limit Hold'em Tournament | $185 |
| 8:00 PM | 172 | Mega Satellite – No-Limit Hold'em | $550 |
| 10:00 PM | 173 | Deep Stack No-Limit Hold'em Tournament | $135 |
| Neděle, 14. června | | | |
| 8:00 AM | 174 | Turbo Mega Satellite – No-Limit Hold'em | $75 |
| 10:00 AM | 175 | Turbo Mega Satellite – No-Limit Hold'em | $185 |
| 11:00 AM | 28R | Monster Stack No-Limit Hold'em (Restart) Day 2 | |
| 12:00 PM | 30 | No-Limit Hold'em (3 day event) | $1.000 |
| 2:00 PM | 29R | 2 – 7 Draw Lowball Championship (No-Limit) (Restart) Day 2 | |
| 3:00 PM | 176 | Deep Stack No-Limit Hold'em Tournament | $235 |
| 4:00 PM | 31 | Pot-Limit Omaha Hi-low Split-8 or Better (3 day event) | $3.000 |
| 5:00 PM | 177 | Mega Satellite – No-Limit Hold'em | $330 |
| 6:00 PM | 178 | Deep Stack No-Limit Hold'em Tournament | $185 |
| 8:00 PM | 179 | Mega Satellite – $5K Six-Handed No-Limit Hold'em | $550 |
| 10:00 PM | 180 | Deep Stack No-Limit Hold'em Tournament | $135 |
| Pondělí, 15. června | | | |
| 8:00 AM | 181 | Turbo Mega Satellite – No-Limit Hold'em | $75 |
| 10:00 AM | 182 | Turbo Mega Satellite – No-Limit Hold'em | $185 |
| 11:00 AM | 28R | Monster Stack No-Limit Hold'em (Restart) Day 3 | |
| 12:00 PM | 32 | Six-Handed No-Limit Hold'em (3 day event) | $5.000 |
| 1:00 PM | 30R | No-Limit Hold'em (Restart) Day 2 | |
| 2:00 PM | 29FT | 2 – 7 Draw Lowball Championship (No-Limit) (Restart) | Final Table |
| 2:00 PM | 31R | Pot-Limit Omaha Hi-low Split-8 or Better (Restart) Day 2 | |
| 3:00 PM | 183 | Deep Stack No-Limit Hold'em Tournament | $235 |
| 4:00 PM | 33 | 2 – 7Triple Draw Lowball (Limit) (3 day event) | $1.500 |
| 5:00 PM | 184 | Mega Satellite – No-Limit Hold'em | $330 |
| 6:00 PM | 185 | Deep Stack No-Limit Hold'em Tournament | $185 |
| 8:00 PM | 186 | Mega Satellite – No-Limit Hold'em | $550 |
| 10:00 PM | 187 | Deep Stack No-Limit Hold'em Tournament | $135 |
| Úterý, 16. června | | | |
| 8:00 AM | 188 | Turbo Mega Satellite – No-Limit Hold'em | $75 |
| 10:00 AM | 189 | Turbo Mega Satellite – No-Limit Hold'em | $185 |
| 11:00 AM | 28FT | Monster Stack No-Limit Hold'em (Restart) | Final Table |
| 12:00 PM | 34 | Split Format No Limit Hold'em (4 Day Event) Day 1 plays 9-handed;Day 2 plays 6-handed; Day 3 plays heads-up; Day 4 plays 8-handed | $1.500 |
| 1:00 PM | 30FT | No-Limit Hold'em (Restart) Final | |
| 1:00 PM | 32R | Six-Handed No-Limit Hold'em (Restart) Day 2 | |
| 2:00 PM | 31FT | Pot-Limit Omaha Hi-low Split-8 or Better (Restart) Final | |
| 2:00 PM | 33R | 2 – 7 Triple Draw Lowball (Limit) (Restart) Day 2 | |
| 3:00 PM | 190 | Deep Stack No-Limit Hold'em Tournament | $235 |
| 4:00 PM | 35 | H.O.R.S.E. (3 day event) (Limit Hold'em. Omaha Hi-Lo Split-8. SevenCard Razz. Seven Card Stud. Seven Card Hi-Lo Split-8) | $3.000 |
| 5:00 PM | 191 | Mega Satellite – No-Limit Hold'em | $330 |
| 6:00 PM | 192 | Deep Stack No-Limit Hold'em Tournament | $185 |
| 8:00 PM | 193 | Mega Satellite – $10K Six-Handed No-Limit Hold'em | $1.060 |
| 10:00 PM | 194 | Deep Stack No-Limit Hold'em Tournament | $135 |
| Středa, 17. června | | | |
| 8:00 AM | 195 | Turbo Mega Satellite – No-Limit Hold'em | $75 |
| 10:00 AM | 196 | Turbo Mega Satellite – No-Limit Hold'em | $185 |
| 12:00 PM | 36 | Pot-Limit Omaha (3 day event) | $1.500 |
| 1:00 PM | 32FT | Six-Handed No-Limit Hold'em (Restart) | Final Table |
| 1:00 PM | 34R | Split Format No-Limit Hold'em (Restart) Day 2 | |
| 2:00 PM | 33FT | 2 – 7 Triple Draw Lowball (Limit) (Restart) | Final Table |
| 2:00 PM | 35R | H.O.R.S.E (Restart) Day 2 | |
| 3:00 PM | 197 | Deep Stack No-Limit Hold'em Tournament | $235 |
| 4:00 PM | 37 | Six-Handed No-Limit Hold'em Championship (3 day event) | $10.000 |
| 5:00 PM | 198 | Mega Satellite – No-Limit Hold'em | $330 |
| 6:00 PM | 199 | Deep Stack No-Limit Hold'em Tournament | $185 |
| 8:00 PM | 200 | Mega Satellite – No-Limit Hold'em | $550 |
| 10:00 PM | 201 | Deep Stack No-Limit Hold'em Tournament | $135 |
| Čtvrtek, 18. června | | | |
| 8:00 AM | 202 | Turbo Mega Satellite – No-Limit Hold'em | $75 |
| 10:00 AM | 203 | Turbo Mega Satellite – No-Limit Hold'em | $185 |
| 12:00 PM | 38 | No-Limit Hold'em (3 day event) | $3.000 |
| 1:00 PM | 34R | Split Format No-Limit Hold'em (Restart) Day 3 | |
| 1:00 PM | 36R | Pot-Limit Omaha (Restart) Day 2 | |
| 2:00 PM | 35FT | H.O.R.S.E (Restart) | Final Table |
| 2:00 PM | 37R | Six-Handed No-Limit Hold'em Championship (Restart) Day 2 | |
| 3:00 PM | 204 | Deep Stack No-Limit Hold'em Tournament | $235 |
| 4:00 PM | 39 | Ten-Game Mix (3 day event) NLH; LH; 7-Card Razz; 7-Card St; 7-Card StHi-Low; PLO;Omaha Hi-Low; 2-7 TD Lowball; 2-7 NL Lowball; Badugi | $1.500 |
| 5:00 PM | 205 | Mega Satellite – No-Limit Hold'em | $330 |
| 6:00 PM | 206 | Deep Stack No-Limit Hold'em Tournament | $185 |
| 8:00 PM | 207 | Mega Satellite – $10K Seven Card Stud Hi-Low Split-8 or Better | $1.060 |
| 10:00 PM | 208 | Deep Stack No-Limit Hold'em Tournament | $135 |
| Pátek, 19. června | | | |
| 8:00 AM | 209 | Turbo Mega Satellite – No-Limit Hold'em | $185 |
| 10:00 AM | 40 | Seniors No-Limit Hold'em Championship (3 day event) | $1.000 |
| (Must be 50 years of age or older) | | | |
| 1:00 PM | 34FT | Split Format No-Limit Hold'em (Restart) | Final Table |
| 1:00 PM | 36FT | Pot-Limit Omaha (Restart) | Final Table |
| 1:00 PM | 38R | No-Limit Hold'em (Restart) Day 2 | |
| 2:00 PM | 37FT | Six-Handed No-Limit Hold'em Championship (Restart) | Final Table |
| 2:00 PM | 39R | Ten-Game Mix (Restart) Day 2 | |
| 3:00 PM | 210 | Deep Stack No-Limit Hold'em Tournament | $235 |
| 4:00 PM | 41 | Seven Card Stud Hi-Low Split-8 or Better Championship (3 day event) | $10.000 |
| 5:00 PM | 211 | Mega Satellite – No-Limit Hold'em | $330 |
| 5:00 PM | 212 | Mega Satellite – $50K Poker Players Championship Eight Game Mix | $2.750 |
| 6:00 PM | 213 | Deep Stack No-Limit Hold'em Tournament | $185 |
| 8:00 PM | 214 | Mega Satellite – No-Limit Hold'em | $550 |
| 10:00 PM | 215 | Deep Stack No-Limit Hold'em Tournament | $135 |
| Sobota, 20. června | | | |
| 8:00 AM | 216 | Turbo Mega Satellite – No-Limit Hold'em | $75 |
| 10:00 AM | 217 | Turbo Mega Satellite – No-Limit Hold'em | $185 |
| 11:00 AM | 40R | Seniors No-Limit Hold'em Championship (Restart) Day 2 | |
| 12:00 PM | 42 | Extended Play No-Limit Hold'em (90 minute levels) (4 day event) | $1.500 |
| 1:00 PM | 38FT | No-Limit Hold'em (Restart) | Final Table |
| 2:00 PM | 39FT | Ten-Game Mix (Restart) | Final Table |
| 2:00 PM | 41R | Seven Card Stud Hi-Low Split-8 or Better Championship (Restart) Day 2 | |
| 3:00 PM | 218 | Deep Stack No-Limit Hold'em Tournament | $235 |
| 5:00 PM | 219 | Mega Satellite – No-Limit Hold'em | $330 |
| 5:00 PM | 220 | Mega Satellite – $50K Poker Players Championship Eight Game Mix | $2.750 |
| 6:00 PM | 221 | Deep Stack No-Limit Hold'em Tournament | $185 |
| 8:00 PM | 222 | Mega Satellite – No-Limit Hold'em | $550 |
| 10:00 PM | 223 | Deep Stack No-Limit Hold'em Tournament | $135 |
| Neděle, 21. června | | | |
| 8:00 AM | 224 | Turbo Mega Satellite – No-Limit Hold'em | $75 |
| 10:00 AM | 225 | Turbo Mega Satellite – No-Limit Hold'em | $185 |
| 11:00 AM | 40FT | Seniors No-Limit Hold'em Championship (Restart) | Final Table |
| 10:00 AM | 43 | Super Seniors No-Limit Hold'em (Must | $1.000 |
| | | be 65 years of age or older) (3 day event) | |
| 1:00 PM | 42R | Extended Play No-Limit Hold'em (Restart) Day 2 | |
| 2:00 PM | 41FT | Seven Card Stud Hi-Low Split-8 or Better Championship (Restart) | Final Table |
| 3:00 PM | 226 | Deep Stack No-Limit Hold'em Tournament | $235 |
| 4:00 PM | 44 | The Poker Players Championship / Six Handed (5 day event) LimitHold'em. Omaha Hi-Lo Split-8. Seven Card Stud. Seven Card Razz. Seven CardStud Hi-Low Split-8 or Better. No-Limit Hold'em. Pot-Limit Omaha. 2-7 Triple DrawLowball. 2-7 NL Draw Lowball. Badugi | $50.000 |
| 5:00 PM | 227 | Mega Satellite – No-Limit Hold'em | $330 |
| 6:00 PM | 228 | Deep Stack No-Limit Hold'em Tournament | $185 |
| 8:00 PM | 229 | Mega Satellite – No-Limit Hold'em | $550 |
| 10:00 PM | 230 | Deep Stack No-Limit Hold'em Tournament | $135 |
| Pondělí, 22. června | | | |
| 8:00 AM | 231 | Turbo Mega Satellite – No-Limit Hold'em | $75 |
| 10:00 AM | 232 | Turbo Mega Satellite – No-Limit Hold'em | $185 |
| 11:00 AM | 43R | Super Seniors No-Limit Hold'em (Restart) Day 2 | |
| 12:00 PM | 45 | No-Limit Hold'em (3 day event) | $1.500 |
| 1:00 PM | 42R | Extended Play No-Limit Hold'em (Restart) Day 3 | |
| 2:00 PM | 44R | The Poker Players Championship / Six Handed (Restart) Day 2 | |
| 3:00 PM | 233 | Deep Stack No-Limit Hold'em Tournament | $235 |
| 4:00 PM | 46 | Six-Handed Pot-Limit Omaha (3 day event) | $3.000 |
| 5:00 PM | 234 | Mega Satellite – No-Limit Hold'em | $330 |
| 6:00 PM | 235 | Deep Stack No-Limit Hold'em Tournament | $185 |
| 8:00 PM | 236 | Mega Satellite – No-Limit Hold'em | $550 |
| 10:00 PM | 237 | Deep Stack No-Limit Hold'em Tournament | $135 |
| Úterý, 23. června | | | |
| 8:00 AM | 238 | Turbo Mega Satellite – No-Limit Hold'em | $75 |
| 10:00 AM | 239 | Turbo Mega Satellite – No-Limit Hold'em | $185 |
| 11:00 AM | 43FT | Super Seniors No-Limit Hold'em (Restart) | Final Table |
| 12:00 PM | 47 | No-Limit Hold'em (3 day event) | $2.500 |
| 1:00 PM | 42FT | Extended Play No-Limit Hold'em (Restart) | Final Table |
| 1:00 PM | 45R | No-Limit Hold'em (Restart) Day 2 | |
| 2:00 PM | 44R | The Poker Players Championship / Six Handed (Restart) Day 3 | |
| 2:00 PM | 46R | Six-Handed Pot-Limit Omaha (Restart) Day 2 | |
| 3:00 PM | 240 | Deep Stack No-Limit Hold'em Tournament | $235 |
| 4:00 PM | 48 | Seven Card Stud (3 day event) | $1.500 |
| 5:00 PM | 241 | Mega Satellite – No-Limit Hold'em | $330 |
| 6:00 PM | 242 | Deep Stack No-Limit Hold'em Tournament | $185 |
| 8:00 PM | 243 | Mega Satellite – $10K Limit Hold'em | $1.060 |
| 10:00 PM | 244 | Deep Stack No-Limit Hold'em Tournament | $135 |
| Středa, 24. června | | | |
| 8:00 AM | 245 | Turbo Mega Satellite – No-Limit Hold'em | $75 |
| 10:00 AM | 246 | Turbo Mega Satellite – No-Limit Hold'em | $185 |
| 12:00 PM | 49 | Pot-Limit Omaha Hi-Low Split-8 or Better (3 day event) | $1.500 |
| 1:00 PM | 45FT | No-Limit Hold'em (Restart) | Final Table |
| 1:00 PM | 47R | No-Limit Hold'em (Restart) Day 2 | |
| 2:00 PM | 46FT | Six-Handed Pot-Limit Omaha (Restart) | Final Table |
| 2:00 PM | 44R | The Poker Players Championship / Six Handed (Restart) Day 4 | |
| 2:00 PM | 48R | Seven Card Stud (Restart) Day 2 | |
| 3:00 PM | 247 | Deep Stack No-Limit Hold'em Tournament | $235 |
| 4:00 PM | 50 | Limit Hold'em Championship (3 day event) | $10.000 |
| 5:00 PM | 248 | Mega Satellite – No-Limit Hold'em | $330 |
| 6:00 PM | 249 | Deep Stack No-Limit Hold'em Tournament | $185 |
| 8:00 PM | 250 | Mega Satellite – No-Limit Hold'em | $550 |
| 10:00 PM | 251 | Deep Stack No-Limit Hold'em Tournament | $135 |
| Čtvrtek, 25. června | | | |
| 8:00 AM | 252 | Turbo Mega Satellite – No-Limit Hold'em | $75 |
| 10:00 AM | 253 | Turbo Mega Satellite – No-Limit Hold'em | $185 |
| 12:00 PM | 51 | Six-Handed No-Limit Hold'em (3 day event) | $3.000 |
| 1:00 PM | 47FT | No-Limit Hold'em (Restart) | Final Table |
| 1:00 PM | 49R | Pot-Limit Omaha Hi-Low Split-8 or Better (Restart) Day 2 | |
| 2:00 PM | 48FT | Seven Card Stud (Restart) | Final Table |
| 2:00 PM | 44FT | The Poker Players Championship / Six Handed (Restart) | Final Table |
| 2:00 PM | 50R | Limit Hold'em Championship (Restart) Day 2 | |
| 3:00 PM | 254 | Deep Stack No-Limit Hold'em Tournament | $235 |
| 4:00 PM | 52 | Dealers Choice/Six-Handed (3 day event) NLH; LH; 7-Card Razz; 7-Card St; 7-Card St Hi-Lo; 7-Card St Hi-Lo Regular; PLH; PLO; PLO Hi-Lo; Big O; LimitOmaha High; Omaha Hi-Low; 2-7 TD Lowball; A-5 Triple Draw Lowball;Badugi; Badeucy; Badacy; 2-7 NL Draw Lowball; NL 5-Card Draw High | $1.500 |
| 5:00 PM | 255 | Mega Satellite – No-Limit Hold'em | $330 |
| 6:00 PM | 256 | Deep Stack No-Limit Hold'em Tournament | $185 |
| 8:00 PM | 257 | Mega Satellite – $10K Pot-Limit Omaha | $1.060 |
| 10:00 PM | 258 | Deep Stack No-Limit Hold'em Tournament | $135 |
| Pátek, 26. června | | | |
| 8:00 AM | 259 | Turbo Mega Satellite – No-Limit Hold'em | $75 |
| 10:00 AM | 260 | Mega Satellite – High Roller For One Drop No-Limit Hold'em (Seats into 2PM $825) | $115 |
| 12:00 PM | 53 | Ladies No-Limit Hold'em Championship (3 day event) (EventEntry is $10K; Ladies Discount Price is $1K) | $10.000/ |
| $1.000 | | | |
| 1:00 PM | 49FT | Pot-Limit Omaha Hi-Low Split-8 or Better (Restart) | Final Table |
| 1:00 PM | 51R | Six-Handed No-Limit Hold'em (Restart) Day 2 | |
| 2:00 PM | 50FT | Limit Hold'em Championship (Restart) | Final Table |
| 2:00 PM | 52R | Dealers Choice/Six-Handed (Restart) Day 2 | |
| 2:00 PM | 261 | Mega Satellite – High Roller For One Drop No-Limit Hold'em (Seats into 6PM $7.500) | $825 |
| 3:00 PM | 262 | Deep Stack No-Limit Hold'em Tournament | $235 |
| 4:00 PM | 54 | Pot-Limit Omaha Championship (8-Handed) (3 day event) | $10.000 |
| 5:00 PM | 263 | Mega Satellite – No-Limit Hold'em | $330 |
| 6:00 PM | 264 | Mega Satellite – High Roller For One Drop No-Limit Hold'em (Seats into HRFOD $111.111) | $7.500 |
| 6:00 PM | 265 | Deep Stack No-Limit Hold'em Tournament | $185 |
| 8:00 PM | 266 | Mega Satellite – $5K Turbo No-Limit Hold'em | $550 |
| 10:00 PM | 267 | Deep Stack No-Limit Hold'em Tournament | $135 |
| Sobota, 27. června | | | |
| 8:00 AM | 268 | Turbo Mega Satellite – No-Limit Hold'em | $75 |
| 10:00 AM | 269 | Mega Satellite – High Roller For One Drop No-Limit Hold'em (Seats into 2PM $825) | $115 |
| 12:00 PM | 55 | DraftKings 50/50 No-Limit Hold'em (50% of Field Paid) (3 day event) | $1.500 |
| 1:00 PM | 51FT | Six-Handed No-Limit Hold'em (Restart) | Final Table |
| 1:00 PM | 53R | Ladies No-Limit Hold'em Championship (Restart) Day 2 | |
| 2:00 PM | 52FT | Dealers Choice/Six-Handed (Restart) | Final Table |
| 2:00 PM | 54R | Pot-Limit Omaha Championship (8-Handed) (Restart) Day 2 | |
| 2:00 PM | 270 | Mega Satellite – High Roller For One Drop No-Limit Hold'em (Seats into 6PM $7.500) | $825 |
| 3:00 PM | 271 | Deep Stack No-Limit Hold'em Tournament | $235 |
| 4:00 PM | 56 | Turbo No-Limit Hold'em (2 day event) | $5.000 |
| 5:00 PM | 272 | Mega Satellite – No-Limit Hold'em | $330 |
| 6:00 PM | 273 | Mega Satellite – High Roller For One Drop No-Limit Hold'em (Seats into HRFOD $111.111) | $7.500 |
| 6:00 PM | 274 | Deep Stack No-Limit Hold'em Tournament | $185 |
| 7:00 PM | 275 | Mega Satellite – $25K High Roller Pot-Limit Omaha (8-Handed) | $2.080 |
| 8:00 PM | 276 | Mega Satellite – No-Limit Hold'em | $550 |
| 10:00 PM | 277 | Deep Stack No-Limit Hold'em Tournament | $135 |
| Neděle, 28. června | | | |
| 8:00 AM | 278 | Turbo Mega Satellite – No-Limit Hold'em | $75 |
| 10:00 AM | 279 | Turbo Mega Satellite – No-Limit Hold'em | $185 |
| 12:00 PM | 57 | No-Limit Hold'em (3 day event) | $1.000 |
| 1:00 PM | 58 | High Roller for ONE DROP (2 day event) (No-Limit Hold'em) | $111.111 |
| 1:00 PM | 53FT | Ladies No-Limit Hold'em Championship (Restart) | Final Table |
| 1:00 PM | 55R | DraftKings 50/50 No-Limit Hold'em (50% of Field Paid) (Restart) Day 2 | |
| 2:00 PM | 54FT | Pot-Limit Omaha Championship (8-Handed) (Restart) | Final Table |
| 2:00 PM | 56FT | Turbo No-Limit Hold'em (Restart) | Final Table |
| 3:00 PM | 280 | Deep Stack No-Limit Hold'em Tournament | $235 |
| 5:00 PM | 281 | Mega Satellite – No-Limit Hold'em | $330 |
| 6:00 PM | 282 | Deep Stack No-Limit Hold'em Tournament | $185 |
| 7:00 PM | 283 | Mega Satellite – $25K High Roller Pot-Limit Omaha (8-Handed) | $2.080 |
| 8:00 PM | 284 | Mega Satellite – No-Limit Hold'em | $550 |
| 10:00 PM | 285 | Deep Stack No-Limit Hold'em Tournament | $135 |
| Pondělí, 29. června | | | |
| 8:00 AM | 286 | Turbo Mega Satellite – No-Limit Hold'em | $75 |
| 10:00 AM | 287 | Turbo Mega Satellite – No-Limit Hold'em | $185 |
| 12:00 PM | 59 | No-Limit Hold'em (3 day event) | $1.500 |
| 1:00 PM | 55FT | DraftKings 50/50 No-Limit Hold'em (50% of Field Paid) (Restart) | Final Table |
| 1:00 PM | 57R | No-Limit Hold'em (Restart) Day 2 | |
| 1:00 PM | 58FT | High Roller for ONE DROP (Restart) | Final Table |
| 3:00 PM | 288 | Deep Stack No-Limit Hold'em Tournament | $235 |
| 4:00 PM | 60 | High Roller Pot-Limit Omaha (8-Handed) (4 day Event) | $25.000 |
| 5:00 PM | 289 | Mega Satellite – No-Limit Hold'em | $330 |
| 6:00 PM | 290 | Deep Stack No-Limit Hold'em Tournament | $185 |
| 8:00 PM | 291 | Mega Satellite – No-Limit Hold'em | $550 |
| 10:00 PM | 292 | Deep Stack No-Limit Hold'em Tournament | $135 |
| Úterý, 30. června | | | |
| 8:00 AM | 293 | Turbo Mega Satellite – No-Limit Hold'em | $185 |
| 10:00 AM | 61A | The Little One for One Drop No-Limit Hold'em 61A(unlimited re-entry) (4 day event) | $1.111 |
| 1:00 PM | 57FT | No-Limit Hold'em (Restart) | Final Table |
| 1:00 PM | 59R | No-Limit Hold'em (Restart) Day 2 | |
| 2:00 PM | 60R | High Roller Pot-Limit Omaha (8-Handed) (Restart) Day 2 | |
| 4:00 PM | 61B | The Little One for One Drop No-Limit Hold'em 61B(unlimited re-entry) (4 day event) | $1.111 |
| 5:00 PM | 294 | Mega Satellite – No-Limit Hold'em | $330 |
| 6:00 PM | 295 | Deep Stack No-Limit Hold'em Tournament | $185 |
| 8:00 PM | 296 | Mega Satellite – $10K H.O.R.S.E. | $1.060 |
| 10:00 PM | 297 | Deep Stack No-Limit Hold'em Tournament | $135 |
| Středa, 01. července | | | |
| 8:00 AM | 298 | Turbo Mega Satellite – No-Limit Hold'em | $75 |
| 10:00 AM | 299 | Turbo Mega Satellite – No-Limit Hold'em | $185 |
| 12:00 PM | 62 | Bounty No-Limit Hold'em (every player is a bounty) (3 day event) | $1.500 |
| 1:00 PM | 59FT | No-Limit Hold'em (Restart) | Final Table |
| 2:00 PM | 61R | The Little One for One Drop No-Limit Hold'em (Restart) Day 2 | |
| 2:00 PM | 60R | High Roller Pot-Limit Omaha (8-Handed) (Restart) Day 3 | |
| 3:00 PM | 300 | Deep Stack No-Limit Hold'em Tournament | $235 |
| 4:00 PM | 63 | H.O.R.S.E. (3 day event (Limit Hold'em. Omaha Hi-Lo Split-8. SevenCard Razz. Seven Card Stud. Seven Card Hi-Lo Split-8) | $10.000 |
| 5:00 PM | 301 | Mega Satellite – No-Limit Hold'em | $330 |
| 6:00 PM | 302 | Deep Stack No-Limit Hold'em Tournament | $185 |
| 8:00 PM | 303 | Mega Satellite – No-Limit Hold'em | $550 |
| 10:00 PM | 304 | Deep Stack No-Limit Hold'em Tournament | $135 |
| Čtvrtek, 02. července | | | |
| 8:00 AM | 305 | Turbo Mega Satellite – No-Limit Hold'em | $75 |
| 10:00 AM | 306 | Turbo Mega Satellite – No-Limit Hold'em | $185 |
| 12:00 PM | 64 | WSOP.com Online No-Limit Hold'em | $1.000 |
| 1:00 PM | 62R | Bounty No-Limit Hold'em (every player is a bounty) (Restart) Day 2 | |
| 2:00 PM | 61R | The Little One for One Drop No-Limit Hold'em (Restart) Day 3 | |
| 2:00 PM | 60FT | High Roller Pot-Limit Omaha (8-Handed) (Restart) | Final Table |
| 2:00 PM | 63R | H.O.R.S.E.(Restart) Day 2 | |
| 3:00 PM | 307 | Deep Stack No-Limit Hold'em Tournament | $235 |
| 4:00 PM | 65 | Seven Card Stud Hi-Low-8 or Better (3 day event) | $1.500 |
| 5:00 PM | 308 | Mega Satellite – No-Limit Hold'em | $330 |
| 6:00 PM | 309 | Deep Stack No-Limit Hold'em Tournament | $185 |
| 8:00 PM | 310 | Mega Satellite – $10K Dealers Choice | $1.060 |
| 10:00 PM | 311 | Deep Stack No-Limit Hold'em Tournament | $135 |
| Pátek, 03. července | | | |
| 8:00 AM | 312 | Turbo Mega Satellite – No-Limit Hold'em | $185 |
| 10:00 AM | 66A | Lucky 7's No-Limit Hold'em – 66A (3 day event) (onere-entry per player which may be used in 66A or 66B) | $777 |
| 1:00 PM | 62FT | Bounty No-Limit Hold'em (every player is a bounty) (Restart) | Final Table |
| 2:00 PM | 61FT | The Little One for One Drop No-Limit Hold'em (Restart) | Final Table |
| 2:00 PM | 63FT | H.O.R.S.E.(Restart) | Final Table |
| 2:00 PM | 65R | Seven Card Stud Hi-Low-8 or Better (Restart) Day 2 | |
| 4:00 PM | 67 | Dealers Choice/Six-Handed (3 day event) NLH; LH; 7-Card Razz; 7-Card St; 7-Card St Hi-Lo; 7-Card St Hi-Lo Regular; PLH; PLO; PLO Hi-Lo; Big O; LimitOmaha High; Omaha Hi-Low; 2-7 TD Lowball; A-5 Triple Draw Lowball;Badugi; Badeucy; Badacy; 2-7 NL Draw Lowball; NL 5-Card Draw High | $10.000 |
| 6:00 PM | 66B | Lucky 7's No-Limit Hold'em – 66B (3 day event) (one re-entry per player which may be used in 66A or 66B) | $777 |
| Sobota, 04. července | | | |
| 8:00 AM | 313 | Turbo Mega Satellite – No-Limit Hold'em (Seats into 1 PM $1.060) | $130 |
| 10:00 AM | 314 | Mega Satellite – No-Limit Hold'em | $550 |
| 1:00 PM | 315 | Mega Satellite – No-Limit Hold'em | $1.060 |
| 12 noon | 64FT | WSOP.com Online No-Limit Hold'em (Restart) Final | |
| 1:00 PM | 66R | Lucky 7's No-Limit Hold'em (Restart) Day 2 | |
| 2:00 PM | 65FT | Seven Card Stud Hi-Low-8 or Better (Restart) Final | |
| 2:00 PM | 67R | Dealers Choice/Six-Handed (Restart) Day 2 | |
| 2:00 PM | 316 | Turbo Mega Satellite – No-Limit Hold'em (Seats into 8 PM $2.080) | $235 |
| 3:00 PM | 317 | Deep Stack No-Limit Hold'em Tournament | $235 |
| 4:00 PM | 318 | Mega Satellite – No-Limit Hold'em | $550 |
| 6:00 PM | 319 | Deep Stack No-Limit Hold'em Tournament | $185 |
| 8:00 PM | 320 | Mega Satellite – No-Limit Hold'em | $2.080 |
| 10:00 PM | 321 | Deep Stack No-Limit Hold'em Tournament | $135 |
| Neděle, 05. července | | | |
| 8:00 AM | 322 | Turbo Mega Satellite – No-Limit Hold'em (Seats into 1 PM $1.060) | $130 |
| 10:00 AM | 323 | Mega Satellite – No-Limit Hold'em | $550 |
| 12:00 PM | 68A | Main Event No-Limit Hold'em Day 1A(Event to payout 1.000 places. Final table players to receive at least $1 million.*) | $10.000 |
| 1:00 PM | 324 | Mega Satellite – No-Limit Hold'em | $1.060 |
| 1:00 PM | 66FT | Lucky 7's No-Limit Hold'em (Restart) | Final Table |
| 2:00 PM | 67FT | Dealers Choice/Six-Handed (Restart) | Final Table |
| 2:00 PM | 325 | Turbo Mega Satellite – No-Limit Hold'em (Seats into 8 PM $2.080) | $235 |
| 3:00 PM | 326 | Deep Stack No-Limit Hold'em Tournament | $235 |
| 4:00 PM | 327 | Mega Satellite – No-Limit Hold'em | $550 |
| 6:00 PM | 328 | Deep Stack No-Limit Hold'em Tournament | $185 |
| 8:00 PM | 329 | Mega Satellite – No-Limit Hold'em | $2.080 |
| 10:00 PM | 330 | Deep Stack No-Limit Hold'em Tournament | $135 |
| Pondělí, 06. července | | | |
| 8:00 AM | 331 | Turbo Mega Satellite – No-Limit Hold'em (Seats into 1 PM $1.060) | $130 |
| 10:00 AM | 332 | Mega Satellite – No-Limit Hold'em | $550 |
| 12:00 PM | 68B | Main Event No-Limit Hold'em Day 1B(Event to payout 1.000 places. Final table players to receive at least $1 million.*) | $10.000 |
| 1:00 PM | 333 | Mega Satellite – No-Limit Hold'em | $1.060 |
| 2:00 PM | 334 | Turbo Mega Satellite – No-Limit Hold'em (Seats into 8 PM $2.080) | $235 |
| 3:00 PM | 335 | Deep Stack No-Limit Hold'em Tournament | $235 |
| 4:00 PM | 336 | Mega Satellite – No-Limit Hold'em | $550 |
| 6:00 PM | 337 | Deep Stack No-Limit Hold'em Tournament | $185 |
| 8:00 PM | 338 | Mega Satellite – No-Limit Hold'em | $2.080 |
| 10:00 PM | 339 | Deep Stack No-Limit Hold'em Tournament | $135 |
| Úterý, 07. července | | | |
| 8:00 AM | 340 | Turbo Mega Satellite – No-Limit Hold'em | $1.060 |
| 12:00 PM | 68C | Main Event No-Limit Hold'em Day 1C(Event to payout 1.000 places. Final table players to receive at least $1 million.*) | $10.000 |
| 3:00 PM | 341 | Deep Stack No-Limit Hold'em Tournament | $235 |
| 6:00 PM | 342 | Deep Stack No-Limit Hold'em Tournament | $185 |
| 10:00 PM | 343 | Deep Stack No-Limit Hold'em Tournament | $135 |
| Středa, 08. července | | | |
| 12:00 PM | 68-R2A | Main Event No-Limit Hold'em Day 2A (1A) Day 2A | |
| 12:00 PM | 68-R2B | Main Event No-Limit Hold'em Day 2B (1B) Day 2B | |
| 3:00 PM | 344 | Deep Stack No-Limit Hold'em Tournament | $235 |
| 6:00 PM | 345 | Deep Stack No-Limit Hold'em Tournament | $185 |
| 10:00 PM | 346 | Deep Stack No-Limit Hold'em Tournament | $135 |
| Čtvrtek, 09. července | | | |
| 12:00 PM | 68-R2C | Main Event No-Limit Hold'em Day 2C (1C) Day 2C | |
| 3:00 PM | 347 | Deep Stack No-Limit Hold'em Tournament | $235 |
| 6:00 PM | 348 | Deep Stack No-Limit Hold'em Tournament | $185 |
| 7:00 PM | 349 | Media Event Invitational | $0 |
| 10:00 PM | 350 | Deep Stack No-Limit Hold'em Tournament | $135 |
| Pátek, 10. července | | | |
| 12:00 PM | 68-R3 | Main Event No-Limit Hold'em Day 3 | Day 3 |
| 3:00 PM | 351 | Deep Stack No-Limit Hold'em Tournament | $235 |
| 6:00 PM | 352 | Deep Stack No-Limit Hold'em Tournament | $185 |
| 10:00 PM | 353 | Deep Stack No-Limit Hold'em Tournament | $135 |
| Sobota, 11. července | | | |
| 12:00 PM | 68-R4 | Main Event No-Limit Hold'em Day 4 | Day 4 |
| 3:00 PM | 354 | Deep Stack No-Limit Hold'em Tournament | $235 |
| 6:00 PM | 355 | Deep Stack No-Limit Hold'em Tournament | $185 |
| 10:00 PM | 356 | Deep Stack No-Limit Hold'em Tournament | $135 |
| Neděle, 12. července | | | |
| 12:00 PM | 68-R5 | Main Event No-Limit Hold'em Day 5 | Day 5 |
| 3:00 PM | 357 | Deep Stack No-Limit Hold'em Tournament | $235 |
| 6:00 PM | 358 | Deep Stack No-Limit Hold'em Tournament | $185 |
| 10:00 PM | 359 | Deep Stack No-Limit Hold'em Tournament | $135 |
| Pondělí, 13. července | | | |
| 12:00 PM | 68-R6 | Main Event No-Limit Hold'em Day 6 | Day 6 |
| 3:00 PM | 360 | Deep Stack No-Limit Hold'em Tournament | $235 |
| 6:00 PM | 361 | Deep Stack No-Limit Hold'em Tournament | $185 |
| 10:00 PM | 362 | Deep Stack No-Limit Hold'em Tournament | $135 |
| Úterý, 14. července | | | |
| 12:00 PM | 68-R7 | Main Event No-Limit Hold'em Day 7 | Day 7 |
| | | Play down to 9 players. | |
| 3:00 PM | 363 | Deep Stack No-Limit Hold'em Tournament | $235 |